Ocoee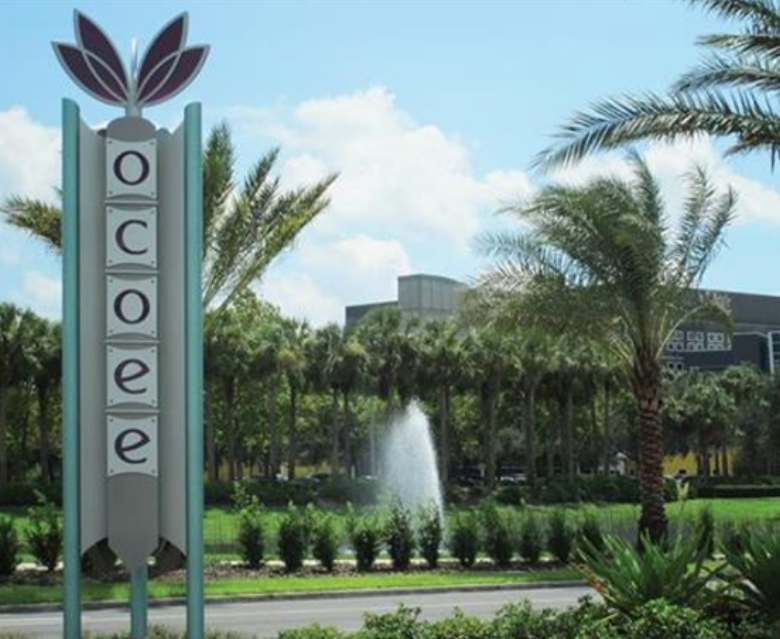 Ideally situated at the heart of all of Central Florida's major highways and expressways, Ocoee is home to a vibrant residential and business community making it an ideal place to live, raise a family and grow a business. Just a short distance from metropolitan Orlando and Walt Disney World, Ocoee offers a family-oriented, hometown atmosphere, countless recreational, employment and educational opportunities.
Known for its exceptional quality of life, Ocoee is home to boat launches, fishing docks, nature trails, picnic areas, sports facilities and playgrounds. Beautiful Starke Lake has the distinction of being one of the "Fab Five" lakes in the greater Orlando area. The Florida Fish & Wildlife Conservation recognized Starke Lake as one of five water bodies managed for quality-size fish. Whether it's fishing, taking a dip in the pool at the Family Aquatic Center or enjoying a relaxing round of golf at the championship Forest Lake course, there's something for everyone in Ocoee.
With a population over 48,000, and a renewed focus on the historic downtown, Ocoee is buzzing with optimism. The City is in the midst of a $44 million capital projects program to enhance public spaces and key infrastructure in Downtown Ocoee. The City's 18 capital projects are underway and will create or expand public spaces along the western shore of beautiful Starke Lake. The projects will provide infrastructure to the downtown area, including a stormwater facility that will serve several blocks that are critical to the revitalization of Downtown Ocoee. Located at the City's Municipal Campus, the expansion of the Lakeshore Center, West Orange County's premier event destination, is complete offering the community a state-of-the-art Center that has space for a 400-seat event. Bill Breeze Park and the Withers-Maguire House grounds have been upgraded with new landscaping and outdoor event spaces.
The City is seeing continued uptick in residential development which includes detached single-family, townhomes, multi-family, and senior housing. The City will see 680 residential rooftops completed in the next year along with 242 senior living units. An additional 850 residential units has been approved and is in final engineering design along with 350 multi-family units.
The Ocoee Business Park, nestled between Maguire Road and SR 429, is nearing completion of over 685,000 SF of Light Industrial/Flex Office space. The buildings provide between 30-36 feet of clear height warehousing space. The total cost of construction for the four buildings is over $20.5 million. The property is strategically located with easy access to SR 429 and the surrounding highways.
The Ocoee Community Redevelopment Agency (CRA) is actively funding several projects to beautify the Fifty West Redevelopment District (SR 429 to Clark Road, north to Story Road, and south to the Turnpike). Building off of last year's beautification projects, the CRA is continuing its efforts to improve the aesthetics of primary corridors including Old Winter Garden Road, Blackwood Avenue, Clarke Road, and SR 50. In 2020, the newly reconstructed SR 50 will get nearly $1 million in landscaping installed in the medians. Plans are also underway on a new wellness park that will feature a walking loop and outside fitness stations. The Fifty West Redevelopment District has also seen the opening of new facilities such as the $37 million, 91,000 square-foot Rehabilitation Center at Health Central and new eating establishments and medical offices in the vicinity of the SR 50 and Maguire Road intersection.
City Center West Orange is a 'centerpiece' of the City's and CRA's revitalization plans. Located along Bluford Avenue and the new "Maine Street", City Center West Orange (CCWO) is ramping up construction. CCWO's first phase will feature a 122-room hotel, more than 172,000 square feet of shopping, restaurant, retail space and 480 condo units along the shore of Lake Bennet.
With input from its citizens, the City of Ocoee has charted a course toward a more livable community destined for greater economic prosperity. While maintaining a high standard of living and quality of life, Ocoee is forging ahead with new growth and limitless opportunities for its residents and business.