Florida Association of Chamber Professionals Celebrates Excellence in Communications with 2022 Annual Communications Award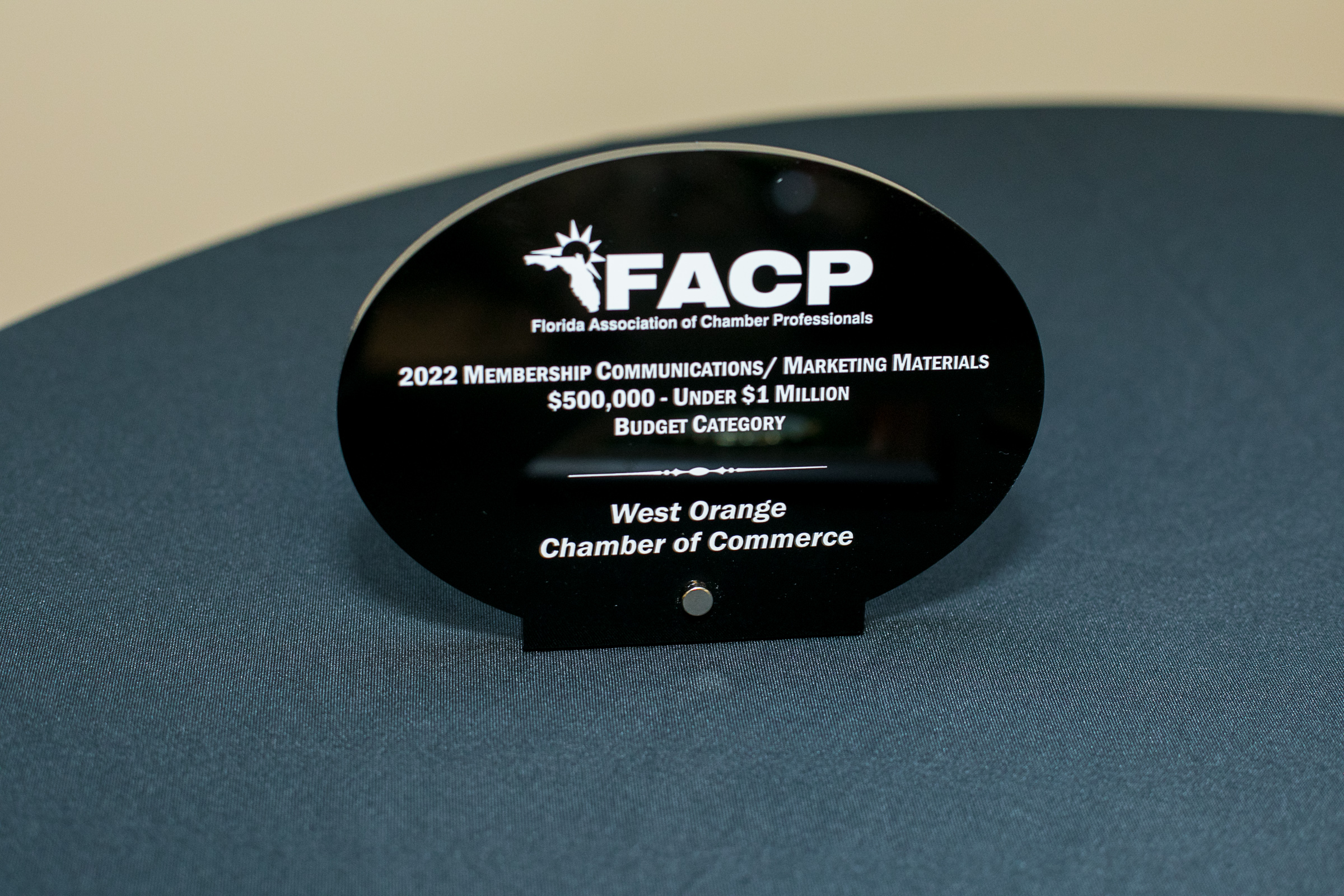 OCALA, FL (December 7, 2022) – The West Orange Chamber of Commerce recently returned triumphant from the annual Florida Association of Chamber Professional's (FACP) Conference. The FACP recognized Florida's top chambers of commerce throughout the state for their outstanding achievement and precedence within the area of communications. The awards were presented at the organization's Annual Conference, held December 6-8, 2022, at the Hilton Garden Inn Downtown Ocala.
The West Orange Chamber of Commerce was among the recipients of the award in the Membership/Communications/Marketing Materials category. This is the third time the WOCC has won this award. The award recognized the accomplishments of WOCC on membership marketing efforts for their inaugural Tour De Chamber – Corporate Bike ride, which was designed by Alarie Design Associates, Inc.
"We could not have been more impressed with or proud of the caliber and diversity of the entries that were submitted for this year's communications awards and we are pleased to honor each and every one of the winning chambers. The judges noted that it was impressive to see so many exceptional entries knowing what a challenge the past year and a half has been for everyone," stated Tammy C. Bracewell, President, FACP.
"It is gratifying and we are proud to know that our efforts to develop a new event and marketing of it in the growing Hamlin community of Horizon West was recognized by our peers, "stated Chamber President Stina D'Uva.
About West Orange Chamber of Commerce
Founded in 1972, the West Orange Chamber of Commerce (WOCC) serves as the leading business advocate in Central Florida by advancing community, collaboration, and leadership for its 1,000 member businesses. Learn more on how the Wet Orange Chamber of Commerce can help grow your business, by visiting wochamber.com/grow-with-us/.