WOCC Installs New Chairman and Welcomes New Board Members at Member Celebration Brunch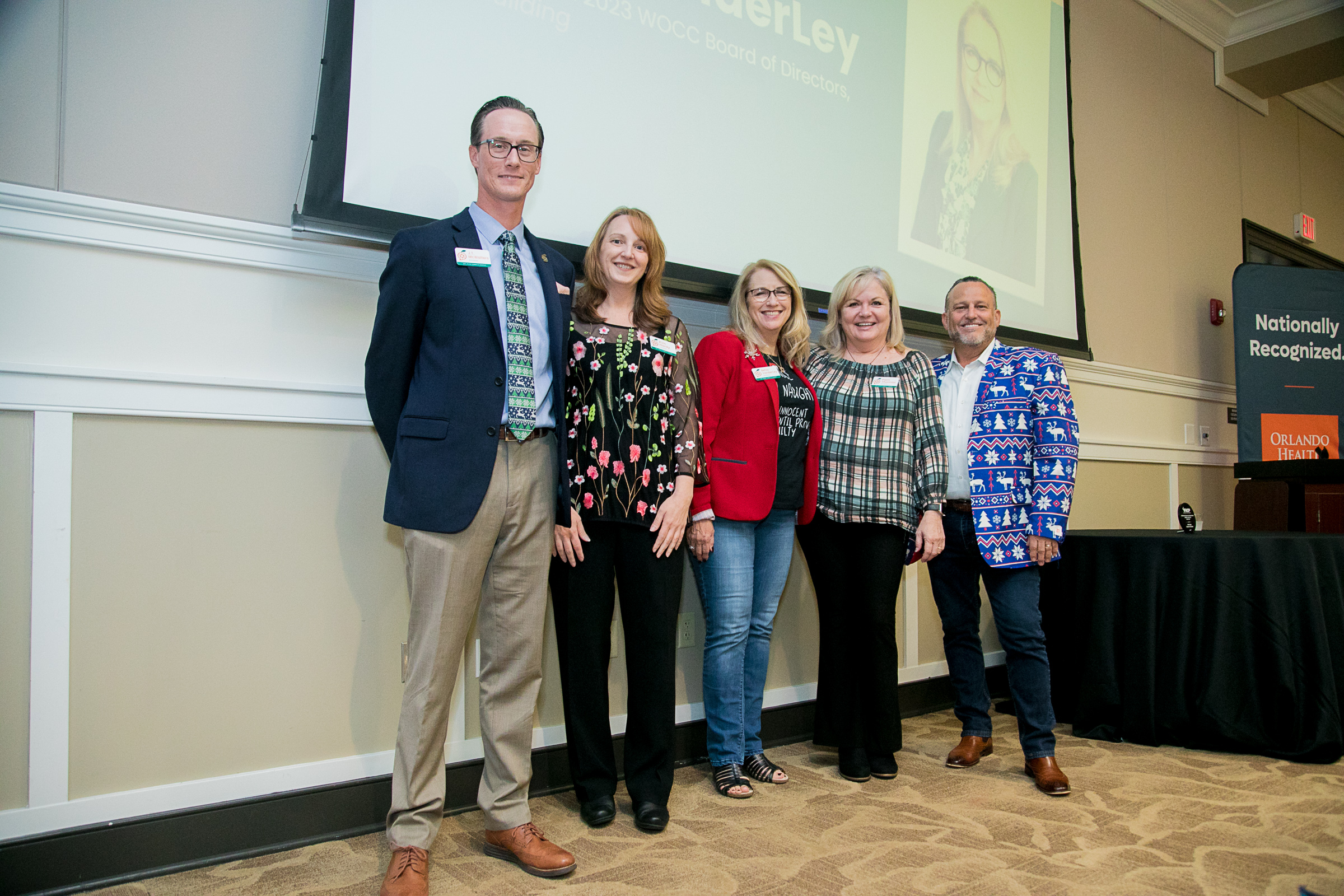 The West Orange Chamber of Commerce (WOCC) installed its 2023 Chairman in front of over 200 members at the 2022 Member Celebration Brunch, hosted by The Ocoee Lakeshore Center on December 9th. J.T. McWalter of the Orlando Magic and WOCC , passed the gavel to John McReynolds of Universal Orlando Resorts, officially signaling the beginning of his term as 2023 Chairman. John McReynolds installed Dr. Kim Hardy of the University of Central Florida as the Chairwoman-Elect who will take over as chair of the chamber in 2024. The first order of business by Mr. McReynolds was to appoint Betsy VanderLey of OHLA Building as the Human Resources Director and to oversee the election of Pam Thomas of Pammie's Sammies as the Treasurer.
During the board meeting portion of the event, the Chamber took time to recognize departing board members for their service and dedication: Deborah Rios-Barnes of Quantum Fiber, Lynetta Tipton Steed of Valley National Bank, and Kathleen Roat of Kathleen Roat & Company, Inc. The remaining board members welcomed Heather Easterling of Boyd Development, Jo-el Gonzalez of Seacoast Bank, Lorri Shaban of CareerSource Central Florida, and Tina Zernickow of Valley Bank to the 2023 Board of Directors.
Following the official proceedings, Stina D'Uva, Chamber President/CEO, shared the 2022 accomplishments, its 50th year, and acknowledged the Ambassadors, Networking Group leaders, members of the Economic and Governmental Advocacy Committee, and Media Partners for their leadership and service to the Chamber. These were followed by the announcement of the winners of the Chamber's Big Orange Awards. This prestigious award recognizes the accomplishments and triumphs of some of the Chamber's most admired and inspirational members. The Big Orange Awards will be presented at Disney's Yacht and Beach Club Resorts on January 27, from 6:30pm – 10pm. To register for this event, please visit wochamber.com/event/boa-2023/.
About West Orange Chamber of Commerce
Founded in 1972, the West Orange Chamber of Commerce (WOCC) serves as the leading business advocate in Central Florida by advancing community, collaboration, and leadership for its 1,000 member businesses. Learn more on how the Wet Orange Chamber of Commerce can help grow your business, by visiting wochamber.com/grow-with-us/.